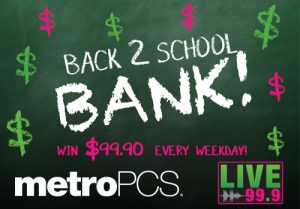 Want some extra cash? MetroPCS and LIVE99.9 got you covered!
Register below and you'll be entered to win $99.90 from MetroPCS and LIVE99.9 every weekday starting Monday, August 14th!
We'll be LIVE at MetroPCS in Wilshire Plaza on September 19th – where you can win gift cards and score a grand prize 500 dollar Visa gift card.  Just answer some fun trivia questions in the LIVE 99.9 PRIZE CAR!  Must be 18 or older to win.