Brooke and Jeffrey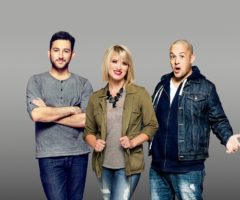 Brooke & Jeffrey bring high-energy, laughs and the best in pop culture conversation to your morning with segments like Phone Taps, Second Dates or Young Jeffrey's Song of the Week.
Listen to clips from the show:

Brooke believes she's being spied on, Jose has found an entirely new group of friends, and Jeffrey still doesn't understand direct deposit. It's time to go around the room and share What's On Our Minds!
---
More from the show:
---

Brooke, Jeffrey & Jose​